PENNY MAILLETTE
Relationships
Built On Trust
A uniquely personal and client-focused service approach that treats each client to a luxury concierge experience.
PENNY MAILLETTE
Relationships
Built On Trust
A uniquely personal and client-focused service approach that treats each client to a luxury concierge experience.
YOUR BEST INTEREST AT HEART
Integrity: The Cornerstone
of Success
Penny Maillette specializes in luxury resale properties within Waterloo Region. She's sought after by high-end, discerning clientele who know what they want and highly value her honest, hands-on, client-focused service approach. Penny receives regular client referrals all thanks to her integrity-driven professionalism and in depth knowledge, which she leverages to expertly guide clients through every step of the buying and selling process. Offering a one of a kind, luxury real estate investing experience, Penny helps clients make Kitchener-Waterloo their home sweet home.
MORE ABOUT PENNY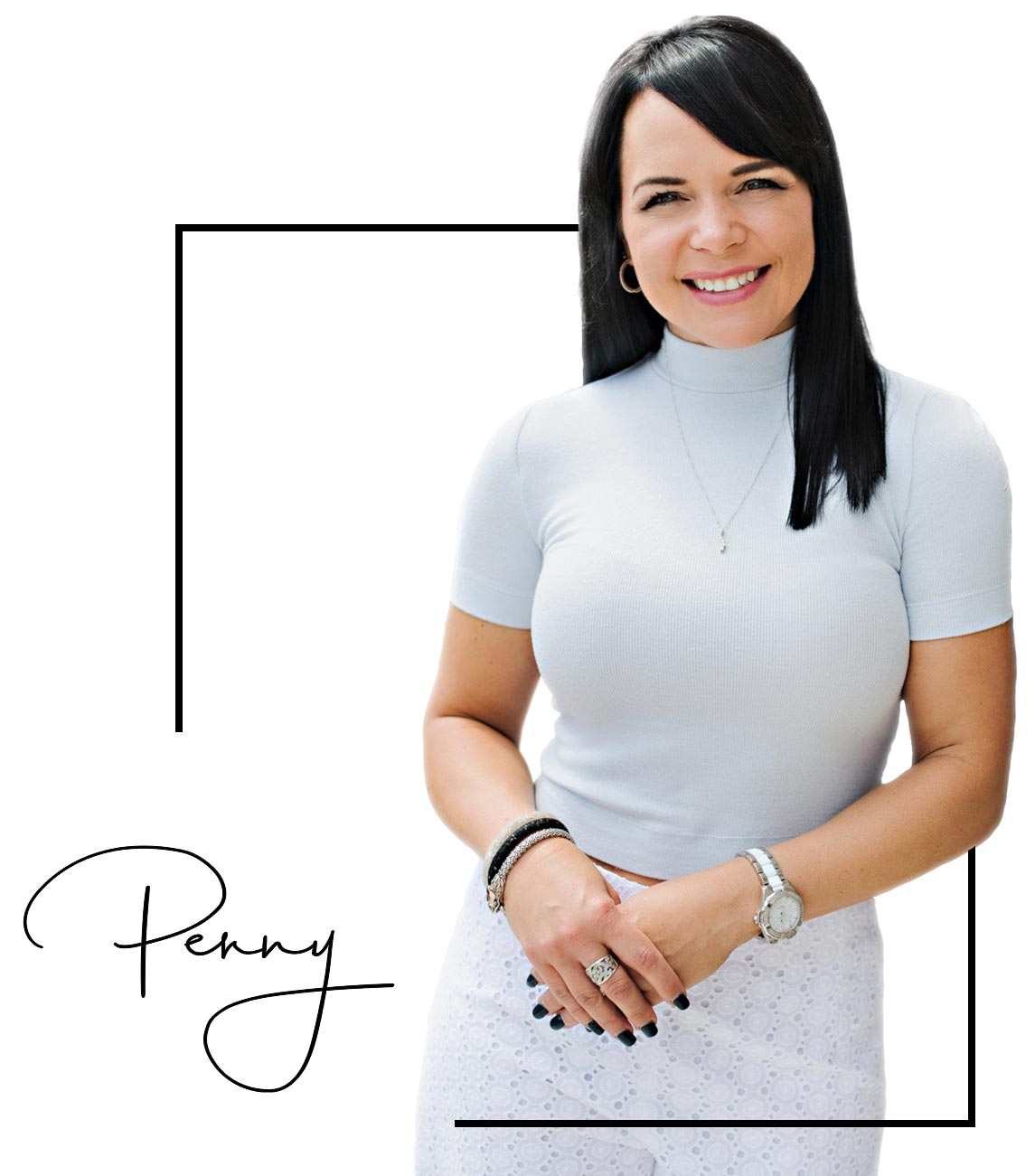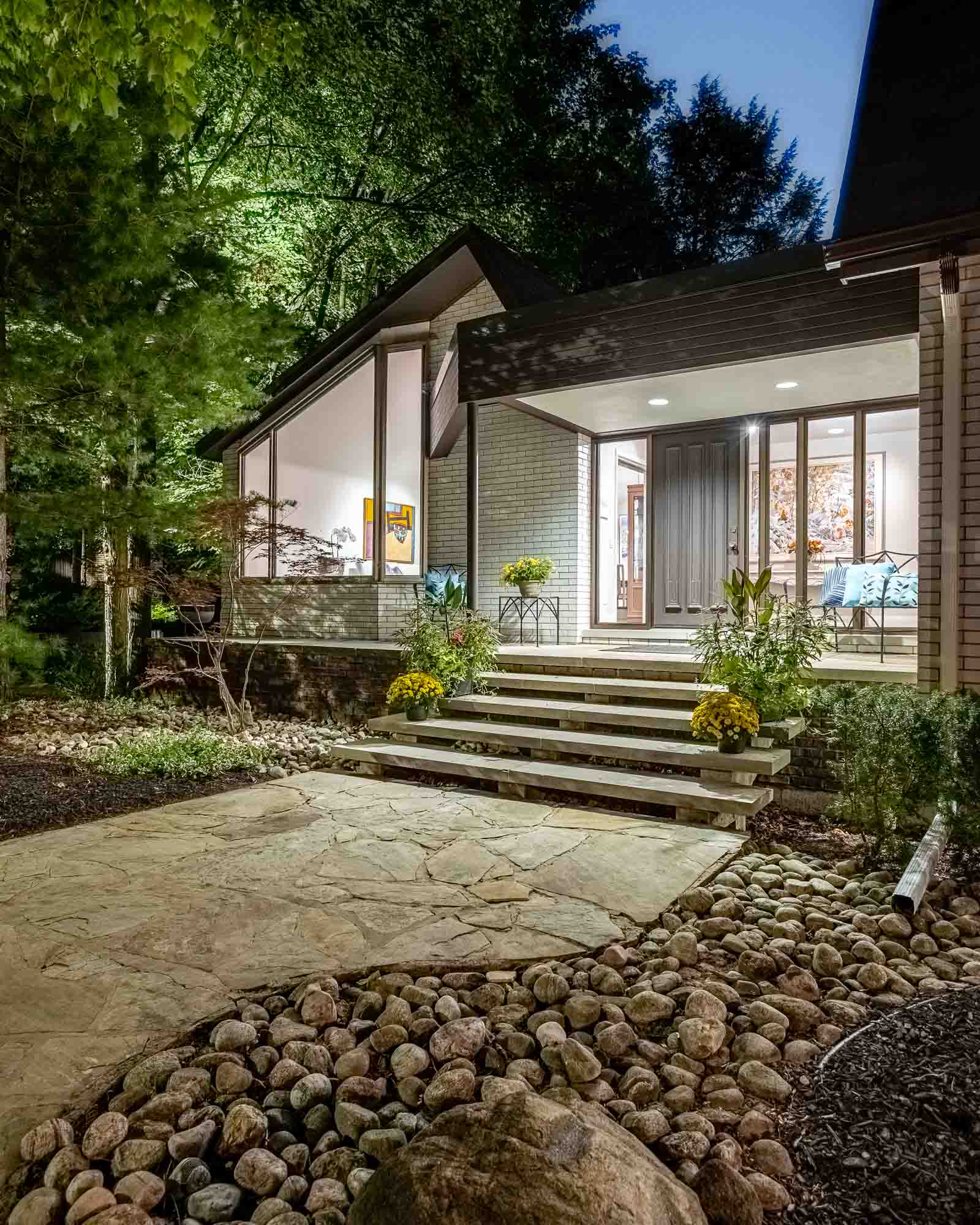 Magnificent Mid-Century Modern in Old Beechwood
168 Tennyson Place, Waterloo
Executive, established and distinguished best describes 168 Tennyson Place in Beechwood proper (also know as Old Beechwood). The area is known for its rolling landscape, commanding mature trees and wide meandering streets.
This 4,100 SF 3 bedroom, 4 bathroom, raised bungalow is an architectural delight. The main floor's angular ceilings, 2-way gas granite-surround fireplace, minimalist detailing, artisan track lighting, and dark hardwood floors call to mind an airy art gallery. Chervin Kitchen features a waterfall edged kitchen island, luxury stainless Jenn-Air appliances. The sprawling lower level is bathed in views of the backyard that you will enjoy day or night, throughout the changing seasons and is ideal for relaxing and entertaining. Features fireplace, cedar sauna, convenient lower level laundry with radiant heating, and a wet bar with granite-wrapped countertops. Venture out the patio doors to the charming Japanese rock garden, flagstone deck and cemented and tile pool. Nearby is an accessible pool house with hydro hookup and refrigeration.
A home that mirrors your dreams, achievements and aspirations!
VIEW PROPERTY
Peaceful Rural Setting
2356 Snyders Road E, Petersburg
Masterful open concept home conducive to elegant entertaining on an acre mere minutes from the city's amenities. This is where luxury and style collide offering you tranquility in a picturesque environment. Quality finishes are apparent throughout this home with emphasis on upscale lifestyle contained within a private, peaceful rural setting. Having the option to unplug and release yourself from the stressors, noise and pulls of the demands of everyday living is bound to contribute to your quality of life.
The voluminous and airy feeling of space is enhanced by the various high waffled, cathedral and coffered ceilings, offering a feeling of intrigue. The meticulously sculpted and landscaped property which spans an acre, offers several options for fun and relaxation for absolutely everyone in your family! Roll through the long and winding treelined private circular driveway at the end of your day to experience a feeling unrivalled by anything else you've previously enjoyed. This magnificent home presents multiple options for every different style of family life, including recent empty nesters, professional couples with children, multi-generational families where main floor living is desired and everything in between. True Luxury is evident at 2356 Snyder's Road.
VIEW PROPERTY
A LUXURIOUS EXPERIENCE FROM START TO FINISH
"I first met Penny at a showing for a property she was selling almost two years ago. I was impressed enough that I started to work with her in selling my country home first and then finding and purchasing a new home for me. Throughout it all, Penny was professional, very understanding, helpful, not pushy, and above all honest. She sold my home at an excellent price and got a good deal for my new home before someone else had a chance to outbid me. The entire experience was excellent in every respect. And, I gained a friend."
Michael Hribar
I first met Penny at a showing for a property she was selling
"Penny was absolutely invaluable in helping us purchase our new home in a really tight time crunch this past summer. She was extremely responsive, kept us informed, and made us feel confident during every step of the home-buying process. If you're looking to purchase your dream home in this hot KW market, I would not hesitate in recommending Penny for her amazing insight, real estate knowledge, and customer service!"
Anna Fleet
Penny was absolutely invaluable in helping us
"Penny helped us in securing our dream home last year and went above and beyond at each turn. She not only made sure we got the home we had been searching with her strategic bidding, but she also faciliated the sale of 2 homes for us. Her professionalism, attention to detail, and marketing strategies really blew us away and we were very pleased with the end results on the sale of our homes. We were a unique situation - a multigenerational living setup, so Penny had 3 adults to please, which I'm sure wasn't easy! But she did a great job and we wouldn't hesitate to recommend Penny to anyone selling or purchasing a home."
Kate Simon
Penny helped us in securing our dream home
"My wife and I had the pleasure of working with Penny in selling our previous home/buying our current home. Throughout what became a year long process she was a pleasure to work with, always professional, never pushy and very empathetic/patient despite some personal challenges and difficulty we had durring the decision making process. I would highly recommend working with Penny, she's unquestionably one of the best at what she does."
Leigh Kuhn
My wife and I had the pleasure of working with Penny
"As a real estate skeptic, I went into speaking with Penny calculating value in my head along the way. At every step, Penny went above and beyond our expectations with surprises left and right on how she demanded exposure. Penny is 5+ stars in professionalism, the expectation for quality, hunger to be the best at her craft, and something very important to us, and an excellent communicator. I would and have suggested Penny to all those in the market to sell or buy."
Jonathan Hendel
Real estate skeptic
"Penny is a professional thru and thru. She is completely reliable and helpful. Penny was honest and kind. There is no else I would recommend as highly as I recommend her."
Jessica White- Nurse
Waterloo
"I was very fortunate to be able to find Penny as an agent for the purchase of a house, and we had a very pleasant cooperation during the whole purchase process. What impressed me most was Penny's reliability, professionalism and diligence. She is completely loyal to the interests of her clients. On the one hand, she transmits market information and procedural knowledge in detail; on the other hand, she fully considers many negligible details for us; Penny is an expert in the real estate field, and her expertise is reflected in business processes, laws and regulations , House structure, decoration and even materials. From finding housing, evaluating and comparing, quotation negotiation, contract drafting, signing, and closing the house, Penny is always energetic, diligent and punctual. Almost on call. I have lived in the new home recommended by Penny for nearly three years and I am very satisfied with everything. Special thanks to Penny, and wish her other clients can achieve their ideal goals smoothly."
Huili & Yisong W
Reliability, professionalism and diligence.
"Penny was true to her word in everything she told us from start to finish. She truly was very professional, trustworthy, open & honest throughout the entire process."
Rose C
She truly was very professional
"I hope Bob and I can convey our very heartfelt thanks for your work with us. We enjoyed your approach to selling the house right from the time we met you. And you carried through with everything you described that you'd be able to do for us. we felt the photographer you arranged was amazing. You were responsive and professional in all our dealings. We appreciate the work you did and we are very satisfied with the outcome!"
Bob & Judy A
Very satisfied with the outcome!
"Penny is a dream to work with. If I saw a listing first (or in one case, drove by a "Coming Soon" sign and reached out to Penny), her first question was "when do you want to see it?". If I had any questions at all, she answered them immediately. Penny is professional, bright, charming, caring, and a pure joy to work with. The brochure that she made for the home she sold for us was gorgeous and she busted her behind for me on my new home. I turned to her for advice and she gave it candidly and professionally, at the same time, not over-stepping or telling me what to do. I cannot speak more highly of Penny and her team and would highly recommend her to anyone that wants to sell their home or buy their new home! Penny is the BEST!!!! Annette is truly a joy to work with! Every time I had a question, she answered promptly, followed up and basically made sure that I had all the information I needed. Buying (and selling) a home can be both exciting and stressful but with The Penny and Annette Dream Team..... I have only felt the excitement and none of the stress! These ladies ROCK!!!!"
Mariana J
Penny is a dream to work with.
"When Mark Maurer introduced me to Penny Maillette, I was very apprehensive and nervous as I was about to embark on a real estate deal of selling my house and I had trust issues. In all honesty, I was scared that my house would be undervalued and that my agent wouldn't put in a great effort to sell my house at top dollar or to sell it at all. Penny Maillette advised me on every step that would be taken to sell my house and make the experience more enjoyable. She explained all the costs involved in selling and moving so there were no hidden surprises. She ensured me that I was her priority and my home will sell within a week. I have to say Penny Maillette was true to her word. From the very start, Penny and her assistant Annette were amazing. They answered all my questions along the way and some questions more than once because I would have small doubts about what they were telling me. They were fast and thorough in answering emails, texts, phone calls and providing updates to me on everything that was being done. On October 1st, I met with Penny to review all offers. I walked into her office feeling very nervous and anxious as to what the final selling price would be. I was not prepared for the final outcome. I was truly amazed by watching Penny as she negotiated through offers and explained the process. Within a few minutes of sitting there, I was totally relaxed and once again Penny validated that she had my best interest at heart. I felt very elated and very confident in my choice to work with her and her team. My house was sold for $50,500.00 over the asking price within 6 days. I was amazed by the outcome. Penny was true to her word in everything she had told me from start to finish. I would highly recommend Penny Maillette to anyone who is in need of a real estate agent. She truly was very professional, trust worthy, open and honest throughout the entire process."
Rose C
Professional, trust worthy, open and honest throughout the entire process.
"Penny was amazing! She sold our home for top dollar and made every step of the process easy and painless. Penny's entire team is fabulous. Annette kept us informed and kept the process organized for us to understand easily. I will gladly use penny for all our future real estate transactions in the future. Thank you Penny my family appreciates your hard work"
Chaise I
I will gladly use penny for all our future real estate transactions in the future.
"Penny has helped us with multiple real estate transactions. Whenever we work with her, we know that she will get us the best deal. We really appreciate her professionalism and patient. My parents don't speak English very well, but she did her best to understand what we need. If you are looking for a real estate agent who really tries to understand your need and has the skills to help you achieve your goal. Give Penny a call."
Yicai J
Penny has helped us with multiple real estate transactions.
"We are so happy that we re-listed our home with Penny. With our first agent, we only had 3-5 showings in 16 days. The open houses were not well attended either. After we switched to Penny, we were shocked with how many showings there were. In 6 days, we had more than 50 showings. Penny and Annette were always prompt in calling us back whenever we had a question. Also, they had excellent advice for improving our house before we put it on the market. After 1 week we had multiple offers and sold it over our list price with a firm offer. You will not find a harder working team than Penny, Annette and their associates. Thank you so much!"
Stephanie Hovius
Uptown Waterloo
"Gabi and I were tremendously grateful to have had Penny in our corner during our search for a new home. From the point that we first met to discuss our wants and needs, to deciding what neighbourhoods best aligned with our future plans, to the countless home walkthroughs where she'd point out important details we never would've noticed, we knew we were dealing with someone who took her profession very seriously and had the best interest of her clients at heart. There were properties she actually talked us out of which may sound bizarre to some, but man were we grateful she did because it was all too easy to get caught up in the excitement of competing for a new home while losing sight of what was really important. When it came time to make an offer, we always had a strategy going in and Penny always made a point of attending the offer presentations in person. All things told, we would not hesitate to have Penny handle our next purchase or sale, and would recommend her to anyone looking for the full service treatment."
Gabi & Mike
Recommended for the "Full Service Treatment"!
"I had a terrible experience with a previous realtor who only seemed to care about his commission and getting more clients through our listing. Then we were lucky enough to have Penny step in and save the day! She is an absolute pleasure to work with, and we couldn't be happier with the way things turned out. She is professional and quick to answer all of your questions, no matter how trivial they may be. Above all she treats you like family and cares about how you are during this crazy time in your life. She works with you and makes sure you understand what is happening every step of the way. Thank You Penny!!! We will recommend you to everyone we know!"
Elena
Thank You Penny!!! We will recommend you to everyone we know!
"Penny is THE BEST Realtor that we have ever dealt with! I've been a realtor myself for sometime and I have never met anybody so passionate and knowledgeable in my entire real estate career. Penny has helped us navigate the market in the KW area so we can fulfill our home and business needs through real estate. We definitely could not have gotten this far without her indepth knowledge about the city and real estate laws."
Samantha & Ben
THE BEST Realtor that we have ever dealt with!
VIEW ALL TESTIMONIALS
Ready to talk Real Estate?
Penny Maillette will help you achieve or exceed your real estate goals, by providing you with extraordinary quality of service in the buying and selling of real estate. Professionalism, integrity, honesty and truth are the cornerstones of her business.
CONTACT PENNY